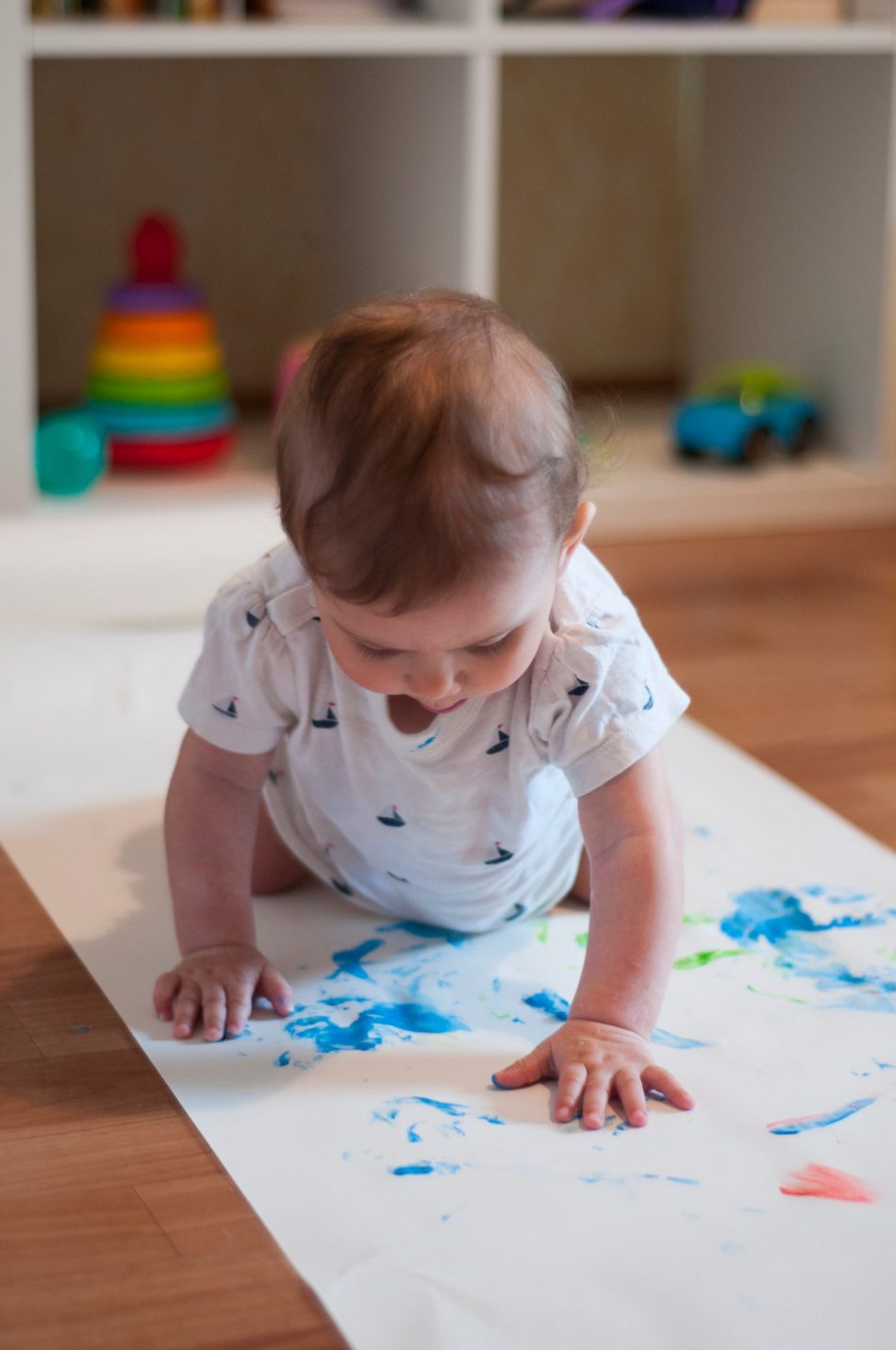 A Women's Pregnancy Center definitely has their fair share of crafty women that love Pinterest and DIY projects! These activities can also be super fun and memorable in your baby's first year of life! In this blog post, we have several fun and easy ideas for new moms to use while their baby is growing. Some of the simplest projects make the most special keepsakes down the road! Taking the time to create something special for your child is irreplaceable, and they will appreciate this gesture for years and years to come.
1. A CHRISTMAS ORNAMENT DEDICATED TO YOUR LITTLE ONE
The first DIY suggestion is a Christmas ornament reflecting on your baby's first days out of the womb! Using a clear hollow ornament, you can insert a small photo of your newborn baby, their little cap from their first day of life, your hospital wristband, cutout footprints, or all of the above!. What a perfect way to reflect on the sweet moment of birth each year around the holidays.
2.   A CUSTOM MEMORY JOURNAL
Our second suggestion is a memory journal. In your baby's first year of life (and beyond if you'd like to continue!), write down some noteworthy moments in your baby's life and development! Do you have a funny picture of them making a mess with their food? Have they learned a new word? Do you have a cute story, or perhaps one that made you laugh? Put it in your memory journal! Years down the road, you'll love looking back at the joy your little one brought you in their early stages of life!
3. OUR NEXT SUGGESTION IS CREATING A FAMILY TREE!
Start with a tree graphic or drawing, which can be found on a number of platforms, including Google and Pinterest, and trace your child's heritage back as far as you'd like! If possible, include a picture of each family member with your baby's face on the bottom branch. Not only will your child have a fun way to learn about their family, but you'll learn so much about you and your partner's family in the process as well!
4.   FAMILY TIME CAPSULE
Suggestion number four is creating a time capsule for the first year of your baby's life. If they have a favorite toy, blanket, pacifier, or anything of sentimental value, put it in the time capsule! You'll love looking back on old photos and other mementos from the early stages of your child's life. They'll love looking at old onesies to see how little they once were! You could even wait until a major birthday (10, 16, or 18) to surprise your child with these previous memories!
5.      TIME TO GET YOUR YARN OUT
For some of our craftier moms, try crocheting or knitting something special for your baby! Whether this is a hat, mittens, blanket, or even a small toy, this will be something they can cherish and look back on for years to come. If you don't have experience with this, look up beginner YouTube tutorials! It's always fun having a project to look forward to!
6.      THE PERFECT CHRISTMAS TREE SKIRT
You know we have to give one more Christmas craft idea! The first step is purchasing a solid tree skirt, preferably white so that paint will show up well. For each month of your child's first year, add their footprints to part of the tree skirt! Make sure to add how many months old they are, and if you'd like, a short note to your baby! You can look back on this as a family for many Christmases to come!
7.  WRITE YOUR BABY A LETTER!
If you are still pregnant, writing your baby a letter before the two of you meet face to face is often one of the most special keepsakes a child will ever have. Tell them how excited you are to watch them grow, become a sibling, become a spouse, and even a parent! Provide them with encouragement prior to birth that they can reflect on for the rest of their lives. They'll always know you are there for them and cheering them on!
8.  A CUSTOM PICTURE BOOK
Yet another fun idea is writing a picture book for your child! You could go all out by having it printed professionally with a hardback cover, or even take a simpler route and assemble a book with construction paper. As your child grows up, they will be able to say that their mom and/or dad wrote one of their favorite books! How cool is that? Programs like Canva are user friendly ways to create an adorable book for your little one(s). It's graphic design made simple!
9.  DESIGN YOUR OWN BED SHEET
You've likely seen this trend at least once, but why not give it a try? Decorate a bed sheet with one half blank other than your baby's name on top, and the other side with months numbered 1 through 12. Make it cute and include whatever designs you'd like (Example: flowers, dinosaurs, trucks, hearts, etc.). Each month of your baby's first year, you can lay them on the blank portion of the sheet, put a circle around how many months old they are, and have a photoshoot! This is such a fun and creative way to track your baby's growth.
10. CUSTOM SIGN FOR YOUR BABY'S ROOM
Finally, consider making a sign for your child's bedroom door! The sign, paints, and brushes can all be purchased from Walmart or Dollar Tree, allowing for a fun, meaningful, and low-cost project! Some examples of what you could include are your child's name, birthday, painted pictures of their favorite animals, etc.
If one of these projects doesn't jump out at you, no worries! There are so many options you can find online that will show you how to create something for your baby. Feel free to come up with something on your own as well! Let your creative juices flow, and give your baby something they can hold onto for a lifetime.